Fantasy Football Spin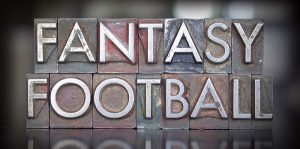 What Is Fantasy Football?
Fantasy football is a fun activity that lets you manage and coach a team. Basically, you must choose certain players in the league before you compete every week. Each athlete's performance on the field will increase your points and overall success.
Understanding the Game
People who participate in a fantasy football league are managers and owners. In most leagues, the scores are calculated each week. All teams have rotating schedules and are matched up head-to-head. The teams that have the best records advance to the fantasy postseason.The goal in a fantasy football league is to gather the most athletes who will dominate every week on offense and defense. The first step involves choosing a starting quarterback. Then, you must select two dependable running backs, several good wide receivers, and a tight end.
Scouting
In the spring and summer, you must gather information about any injuries and free agents. Although this may sound like an overwhelming task, most fantasy football leagues place tons of data about these subjects on their websites.
General Manager
On draft day, many fantasy football players spend a lot of time building their squads. The draft lasts for several hours, but the time usually flies by quite quickly. Because the process of selecting the proper athletes can be challenging, you should use notes and cheat sheets to help you make the best decisions. A strong fantasy football team must have great backup players too.
Coaching
When coaching a fantasy football team, the goal is to make the best choices every week. You must select which athletes will begin the game and which athletes will rest on the bench.
Bonus Advice – How to Win Each Week
Whenever a league holds a draft at a restaurant or bar, always arrive at the event prepared. If you get there early, you will have easy access to plugs for your electronic devices.
Also, if you are looking for more information on the sports betting aspect of the game check out http://bettingapp.com/. They have a lot of tutorials on how to place wagers which is not a topic we cover on our site.
Using a cheat sheet is totally ok. On ESPN.com, there are plenty of helpful draft kits that are worth using.
Each league has its own rules and guidelines, so always read the fine print. For example, in most leagues, you cannot pick a player who has already been picked.
Always study the injury reports before the draft so that you will understand each athlete's recovery time. This is why most people wait until the last weekend before the start of the season to have a draft.